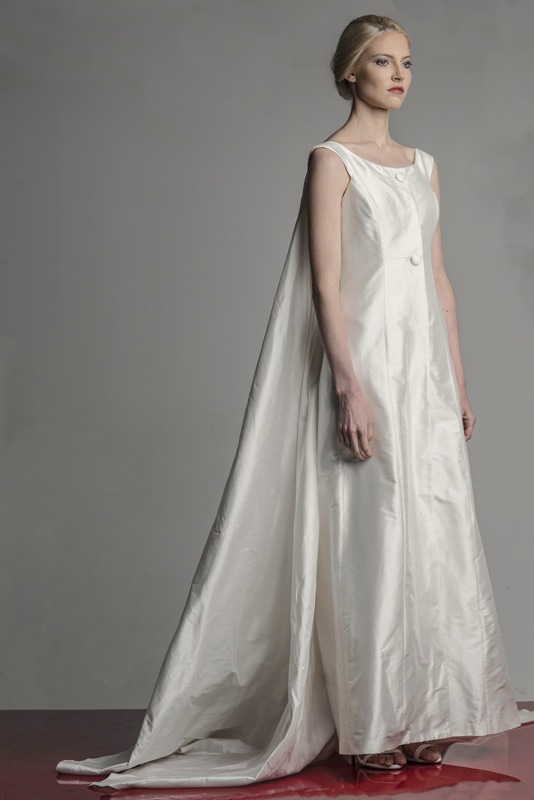 The Neo-Geometry Exhibition Collection (VAMFF Cultural Program 2015)
This collection represents a unique take on the Bridal gown, keeping with a classical feel while introducing new style elements to reinvent and renew old glamour. It merges elegance, modernity and sophistication with tradition and innovation.
The styling is inspired by the elegance and precision of geometry. Its emphasis is on line, cut, volume, and silhouette. Part Art Deco, part cubist, part minimal modernism it combines clean, simple lines with refined detail and minimal adornment.
Structured using pure, unadorned silk, this classic-modern collection can be described as one of 'extravagant minimalism'.
To visit the studio or meet with Alexsis to discuss your own design ideas, please book in for a free consultation.
Alexsis C Star offers you options for your perfect dress.
Custom unique:
Alexsis C Star custom designed wedding gowns are completely made to measure, one-off original designer bridal gowns. We work with you to create a gown that perfectly highlights your style and personality and incorporates the themes and of your wedding day.
Customised ready-to-wear:
Our customised ready-to-wear gowns from the Alexsis C Star collections are designed to incorporate your wedding dress ideas within a streamlined creative process. These wedding dresses all have our handcrafted quality, fit and sophistication, with the ease and price of a ready-to-wear wedding dress.
Ready-to wear:
Visit our studio to view and try on pieces from our collection. Styling and fabrics are kept simple, relaxed and elegant and include gowns and deluxe separates - jackets, skirts, slip dresses, tops and tunics - that can be purchased straight away.